ELENA NIKOLAVNA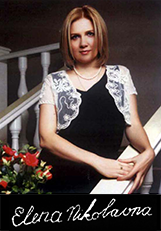 I have visited India a number of times, and it has always fascinated me. Each visit brought certain changes into my life and left deep footprints on my mind and soul. Each time I learnt a new lesson while meeting new people and visiting new places. Having seen both the faces of India, I still have a special affection for this country and its people.
I also remember that my first spiritual experience at young years was result of reading 'Bhagavad Gita, although I follow Christianity.
I came across Deepak Vakil when he interacted with me in response to my article on 'Bhagavad Gita' in Times of India. It was a pleasure to know about his wonderful work and noble traits, following from the letters we have exchanged.
He is a person worth knowing. Leather bags have been my lifelong passion. I was impressed by Deepak's penchant for hard work, perseverance and commitment to quality.
These things are reflected in all the products, manufactured by YETI. It is my pleasure to endorse this exclusive line of Leather bags, as a signature collection.
Namaste.
Nikolavna Signature Collection
Glenn Beatty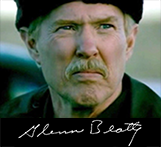 1994. Paranoid schizophrenic Willian Burkhart embarks on a spate of burglaries in Park County, Colorado. After three months of searching, police surround Burkhart in a cabin. Before backup arrives, the fugitive breaks free and shoots Deputy John Hoeler in the chest.
Lead by Sheriff Bob Harrison (Glenn Beatty), Colorado law enforcement assembles a 250 men task force to track down Burkhart. During the dangerous two week hunt, Burkhart evades capture. The manhunt is dramatically scaled back. It is now up to Harrison, alone, to catch his man.
The story concludes with one of the most intense moments of the entire series.
The Fugutive Chronicles, the landmark docu-drama series, tells the dramatic stories of America's most notorious manhunts.
In the words of fugutives and the men who brought them to justice, each film dramatically recreates the tense, desperate and lethal struggles between hunted and hunter.
I coincidentally met Meit Vakil, a few years ago in New York City. I saw a copy of his dad's (Deepak) book "Get up, Don't Give up" and bought it. I was deeply touched by its' contents.
Yet, I had a question: Does the author Mr. Deepak Vakil live his life and run his leather business by the principle
in his book? In 2009, after shooting a film in Rajasthan, I made it a point to stay with Vakils.
I visited their business and got the answer "YES"! I discovered a very small business made large by truth. An unique manufacturing unit run at the highest standard – with love and care for all. What a rarity! Most of us Americans, see this as impossible. The book I read was a reality! Author has lived first and written afterwards.
My wife Maria and I are honored to call the Vakil Family, friends. I am proud and previleged to endorse the Yeti Product Line.